zucchini.
It's such a weird word isn't it?
It wasn't until I started writing this post that I actually thought about it.
I really love zucchinis. It's such a mild vegetable that it can be used in almost anything. Zucchini Bread, zucchini noodles, zucchini brownies… tell me that those don't look good. I dare you!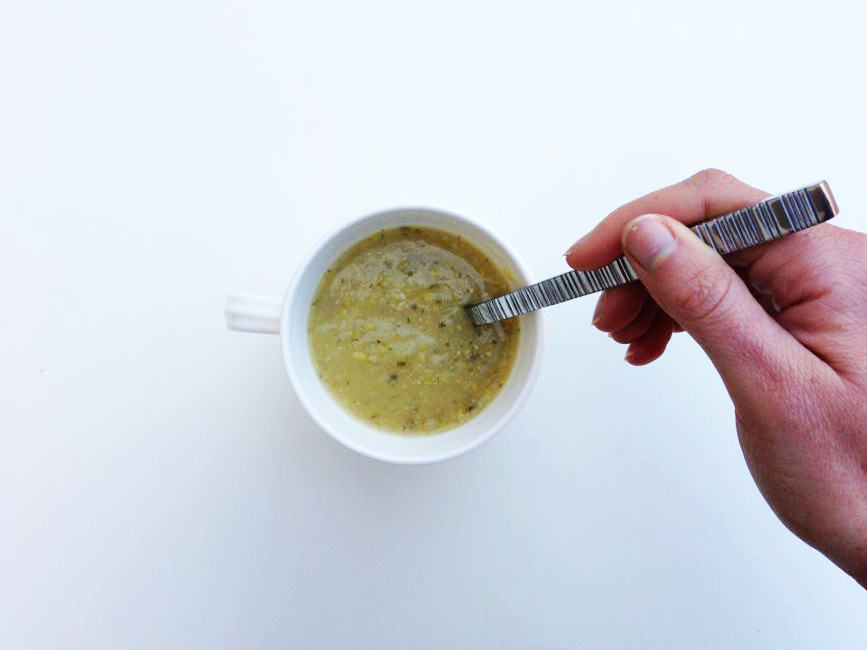 Anyways, it was a wet and cold day of 50 degrees in San Luis Obispo and I wanted soup. However since my hardcore budgeting kick, I really didn't have much to work with in my refrigerator. So, I decided to try to make my own type of soup with the zucchinis that were on sale for $0.99 a pound (great deal for offseason).
Little did I know that pureed zucchini soup was a thing. Google it and you'll see.
I roughly chopped them up and tossed 'em in a pot with an onion and chicken broth. Less than twenty-minutes later, I had myself a nice steaming cup of healthy zucchini soup.
It's really good! Smooth and low calorie, this zucchini soup recipe beats out the competition because it's only about 30 calories per 2 cups.
Healthy Zucchini Soup Recipe
Prep time: 2 mins
Cook time: 15 mins
Total time: 17 mins 
Serves: 4
Ingredients
1 small onion
3 medium to large zucchinis
4 cups chicken broth
2 cloves garlic
2 tablespoons chimichurri OR 2 tablespoons chopped parsley, a drizzle of olive oil, and a sprinkle of crushed red pepper
Instructions
Roughly chop the zucchini and onion
Place in a large pot with the chicken broth and bring to boil
Turn down to medium and let cook for 15 minutes
Remove from heat and let cool enough to pour in to a blender
Add garlic and chimichurri or substitute
And it's so dang easy. Chop, dump, boil, blend.
Vegetable soups are what I call "fillers". Perfect for when you're hungry but it's too close to dinner or you're weirdly super hungry and nothing fills you up.
I love to have it as a snack when I'm cold and hungry. It fills me up so well, especially since it's warm. I dump it in a mug, nuke it in the microwave, and bring with me to my desk or snuggle up under my fuzzy blanket. Done and done.
I've really never been a huge pureed soup fan. Mostly because I didn't grow up with it. And when you have butternut squash soup or zucchini soup as the entree, where do you put the protein? Do you have grilled chicken on the side? On top of a salad?