I'm very excited to present an interview with Brooke Birmingham, author of the popular blog Brooke not on a Diet!
Brooke lost 172 pounds over the course of four years following the Weight Watchers program. Losing that much weight is no insignificant task, but it's clear that Brooke doesn't let her weight define her. She's very proud of her healthy body and the efforts she's taken to pursue a healthy life.
On her blog, you'll find stories of running, biking, beer, the occasional recipe, and honest conversations about life. She was also recently featured on several television interviews.
Brooke cheerfully agreed to sharing her story with all of you. See the interview below!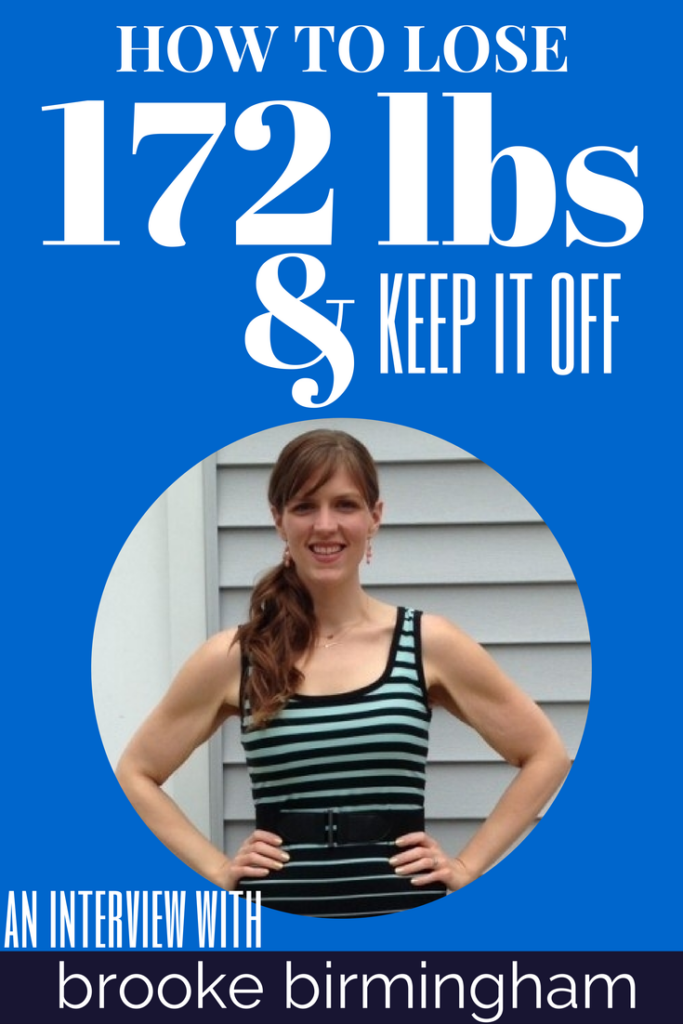 What do you think was most critical to your entire weight loss journey?
When I think of my weight loss journey over the years, there were several things that were critical to it. One of the biggest things was always reminding myself that I was worth it to get healthy. That I was worth all the hard work it takes to do so. Setting goals for myself helped keep the journey moving and exciting as well, I would set non-scale goals such as trying a new fruit or vegetable or biking so many miles in a month. That helped take the focus off of the scale and the large amount of weight I was trying to lose. I would also allow myself days off from thinking about Weight Watchers. Sometimes my brain just needed a break from all the calculating and after a day off, I felt refreshed to get back at it the next day.
What were the biggest lifestyle adjustments you had to make during your time with Weight Watchers? Were they easy to pinpoint or did it take time to figure them out?
The biggest adjustment I had to make was my eating habits. I was used to running through various drive-thrus, eating pints of ice cream daily, and entire bags of chips without thinking about what was going in my mouth. When I started Weight Watchers, I really didn't know much about cooking. So, I lived off frozen meals for a period of time, until I started setting goals to learn new recipes. Now, I cook the vast majority of my meals. My cooking skills have improved a ton over the years and now being in the kitchen is my happy place.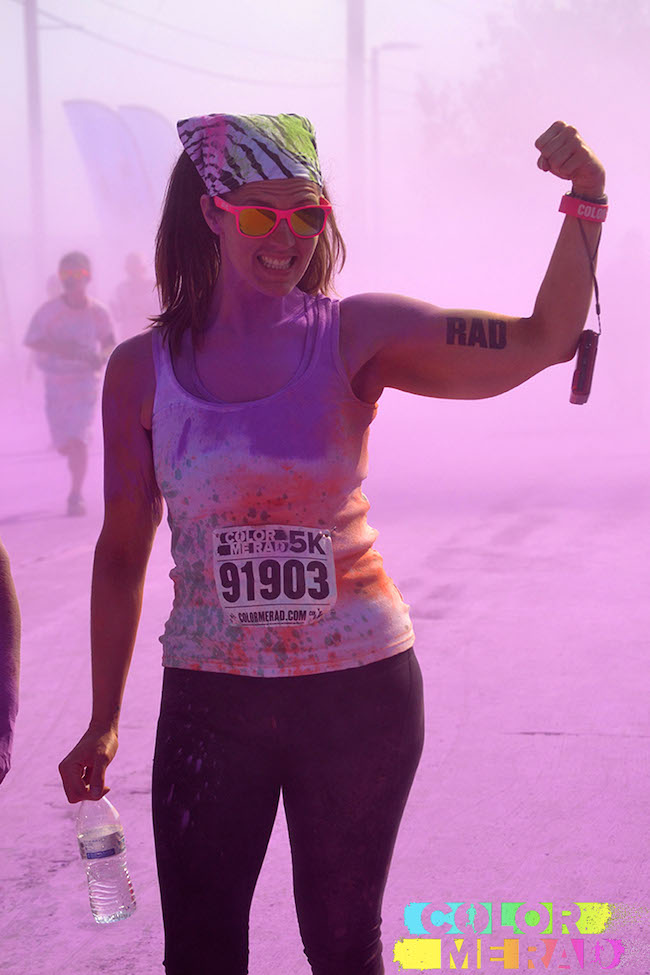 Did you ever have slip-ups or times when you didn't think you could do it? If so, how did you get back on track?
This question always cracks me up, OF COURSE I had moments like that. I'm far from perfect and have slipped up more times than I can count. That makes me human.  When I slip up, I set a goal to just focus on one small thing, like drinking my water for the day. Just focusing on the one thing and accomplishing that can put me back in the right mindset. Also, I don't beat myself up for slip-ups, I realize that they happen and I try to focus on the positive things I have done lately. Sometimes we spend so much time focusing on all the wrong we do that it's hard to see that there are often several positive things that outweigh the negative.
What are your favorite ways to stay active and workout?
One fun tidbit about me is I lost my 172 pounds without a gym membership! I have a huge collection of workout DVDs (Jillian Michaels is my home girl!), go bike riding, and love walks. My all time favorite thing to do is ride my bike along the Mississippi River. Being from the Midwest, we have icky winters, so during those months I rely a lot on my workout DVDs and make up workouts from my Pinterest board!
Do you think blogging helped keep you accountable? Would you recommend that as a tool for other people who need to lose a lot of weight?
Blogging is definitely something that helped keep me accountable because along with blogging, there's social media. I connected with some pretty amazing people via social media. There's a pretty amazing community of people in the healthy living blog world and we all help each other out. Whether it be challenging one another or offering a kick in the pants when needed.
Having readers also helps a great deal because you have people who are expecting you to post and will call you out if you haven't been. When I first started it was just a way to document my journey, now it is a source for people whom what to lose weight or just incorporate some healthy aspects into their lives. It's pretty awesome how many people it has reached all over the world. This small-town Illinois girl can inspire someone all the way in Australia, so cool.
Would I recommend blogging for other people? Yes and no. Blogging isn't for everyone and depending on what type of blog you want, it can be a lot of work. I do recommend documenting your journey in any way that works for you. I love being able to look back on the times I did something awesome or just to see how far I've come. Blogging works for me because I love writing and I love being able to help others.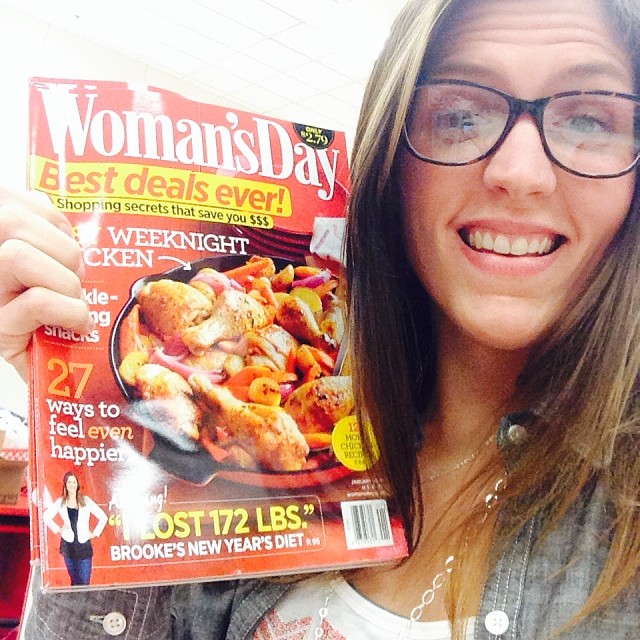 You mention on your website that you've "learned the art of maintaining." What does that look like to you?
That should really say LEARNING the art of maintaining. Lol. Once I think I have it figured out, I don't. For me, it means not letting old habits creep back in, not drinking too much beer, and continuing to keep up with all the habits (eating right and moving more) that I formed while losing the weight. I don't beat myself up over any gain on the scale; I just get myself in check by cutting back on too many indulgences.
Can you give an example of a typical day of eats and activity for you?
Lately breakfast has been a banana sautéed in coconut oil and cinnamon thrown in some oatmeal or a green monster smoothie. Lunch is salad to accompany the previous night's leftovers. Dinner usually involves chickpeas in various forms, stir-fry being our favorite! Stir-frys are quick and easy; cook up some veggies, add protein of choice, and some stir-fry sauce concoction. Throw it on top of some rice or quinoa and you have a tasty dinner!
Activity varies on my mood. Lately is has been bike rides and walks while listening to some of my favorite podcasts.
What's your most valuable piece of advice for anyone looking to embark on a weight loss journey?
My biggest piece of advice is figure out why you want this. Write down EVERY single reason you can think of from wanting to be off a medication to wanting to be able to ride a roller coaster. Then keep this list and pull it out when you're struggling. Sometimes all you need is a reminder of why you started to get back on track again.
Also, know that you are worth it. You're worth all the hard work it takes to get healthy and that it ALWAYS pays off in the end.
—
I'm so appreciative that Brooke was willing to share her story with us. Please visit her blog, Brooke not on a diet and voice your thoughts in the comments below!