With so many fitness trackers in the market it is not surprising that you will bump into someone wearing a Fitbit, a Garmin, a Jawbone and some kind of fitness watch. As a result of its popularity, it is becoming a trend to monitor your daily movements and observe a breakdown of one's activities from steps taken, flight of stairs climbed, calories burned, sleep patterns and heart rate. Whether it is at home or at work, fitness wearables are increasingly becoming an influence on our everyday lives, and for the better. And as fitness trackers evolves, so has the technology which has allowed it to improve the tracking capabilities, especially with heart rate tracking.
Those wrist styled heart rate trackers have taken activity tracking to another level and has made it even more convenient and simpler to monitor your level of your fitness. For someone who is looking to lose weight, a fitness watch can guide you to train within your allowable heart rate. And for a fitness buff who enjoys intense cardio based training, a fitness tracker can help guide you to train to your targeted heart rate. Put it simply, a fitness tracker with its own in built heart rate monitor literally guides you to train effectively and at your preferred level of difficulty.
Although there are still question marks over the accuracy of the heart rate measurements, especially when it is used for high intensity training and for serious exercisers who enjoy ramping up their heart rate, the simplicity and convenience of strapping on a fitness tracker on the wrist cannot be overlooked. For the serious athletes, there are the chest strap options that can be synced to the fitness tracker, but that's not as convenient. Let's face it, as the technology on these gadgets continues to develop, the trackers will continue to improve.
For people who are new to the whole working out routine, a fitness tracker with a heart rate monitor is a nice start to your fitness adventure and activity tracking. So for the sake of this article, let's look at the three best fitness trackers (watch style) with it's own heart rate sensors and the best part is, these three devices are less than $150.
Fitbit Charge HR
Fitbit is by far the most popular brand and the Fitbit Charge HR is another standout from its many productions. It is a quality wrist style heart rate sensor that can track your day to day steps, calories burned, distance walked or ran, stairs climbed, number of hours slept, and of course, your heart rate. Both the heart rate and sleep features are both automatically tracked continuously.
Plus, the Charge HR acts like a basic smartwatch that is able to give you the time of day, the date, a simple incoming caller id vibrate alert, it even has a silent alarm vibration, and as well it has a stop watch function which you can time any activity.
Although it has a five day battery life, the design of the fitness tracker is more appealing than most fitness wearables, the features are excellent and the Fitbit app is simply the most user friendly for navigation and data analysis.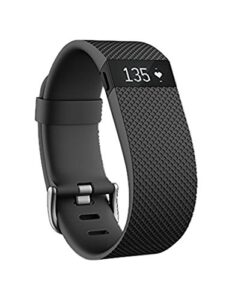 Garmin Vivosmart Hr
Garmin is one brand that has steadily risen to the ranks amongst the many fitness wearables. Not only does it produce quality devices, all of its fitness trackers like the Garmin Vivosmart HR are waterproof, which is a big positive. Hence this is very useful for swimmers or fitness fanatics who enjoys a ride, a run and a swim. Plus this is really handy for the fitness tech geeks who wants every-bit of activity recorded, every second of the day noted – from eat, sleep, work, play to shower time.
As well, the Vivosmart HR has married itself to the smartwatch space quite well with superb smartphone notifications from incoming caller id, emails, text messaging and more. Like the Fitbit Charge HR, it can track all the daily activities including automatic sleep and heart rate monitoring.
With a battery life of close to nine days, the Vivosmart HR offers plenty of solid features, and for people who wants a reliable fitness tracking device that comes with smartwatch tech, this a device to look out for. And if this was not mentioned earlier, this is a great waterproof fitness tracker with a waterproof rating depth of 50 meters!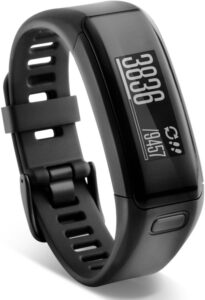 Jawbone Up4
Amongst the three devices presented here, the Jawbone Up4 is the cheapest but it packs plenty of punch. Like the Charge HR and Vivosmart HR, it has automatic heart rate monitoring and the general standard tracking features. But there are differences, the Up4 can record one's breathing and perspiration levels non stop , it can record the quality of one's sleep from REM, Deep and Light cycles, it has a smart coach function to guide your workout and the device can be linked to your American Express account for paying items at businesses that are participating in this ever growing market of 'Tap to Pay'.
At around $80 and a battery life of 10 days, it is a fitness tracker worth considering for tracking both your activities and heart rate.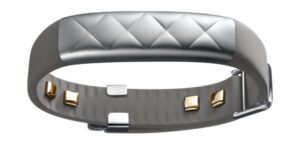 Don't think these are the best fitness trackers?
There you have it, three of the best fitness trackers with their own heart rate sensors, and all for less than $150. Whether you are a fitness nut, someone just getting a feel of the fitness world, or someone who is budget conscious, these devices have covered all the basis. If you really want to make every workout count, a heart rate monitor is one feature you should consider today. We've tried our best to curate great fitness trackers that won't break the bank. But if it's not what you're looking for, you can check out top rated fitness trackers on Amazon: