So you've probably heard the buzz at your local gym or seen the 8am infomercials- but what is Zumba really?
Zumba is a mix of Latin rhythms and aerobic fitness and will have you dripping in sweat by the end of the hour. Don't let the hootin' and hollerin' scare you! Zumba classes are high energy and cater to all ages and all fitness levels. Want to go to a workout class where you're having so much fun that you fail to realize you just did 200 squats? Then Zumba is for you!
Zumba is great for weight loss because it is not only a killer cardio workout, but also works in strengthening moves and runs on an interval system. During the hour-long workout, your heart rate will go through peaks and valleys, much like HIIT (high intensity interval training) circuits. With each song, you'll experience different moves and styles. They can range from crazy-jumping-shaking-fat-burning-madness to sexy-hip-popping-smooth-moves.
And did I mention the music? Not only are you going to get some latin rhythms such as Cumbia, Salsa, Reggaeton, & Merengue…but you might also hear some of your favorite contemporary artists such as Pitbull, JLo, Rihanna, and Maroon 5.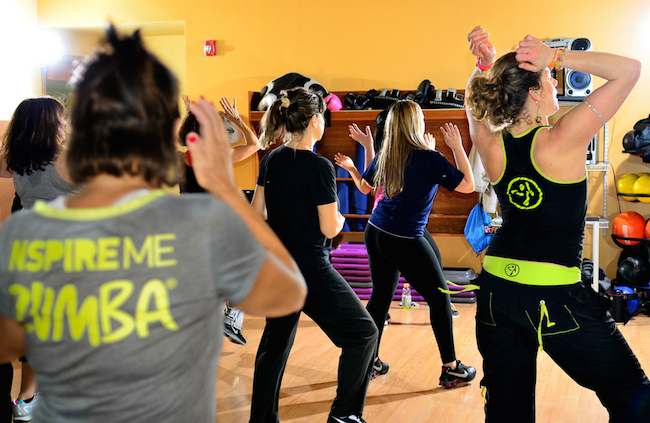 Zumba & Weight loss
Usually, in my own Zumba classes, I burn between 600-700 calories/hour while wearing my heart rate monitor. If you're doing a standard 500 calorie/day deficit for weight loss, then there's your daily burn in one hour! Zumba is great for weight loss because of how much it makes your body work. Here's how Zumba.com describes it:
"Pretty much the most awesome workout ever. Dance to great music, with great people, and burn a ton of calories without even realizing it.
Besides the high amount of cardio you'll be doing, Zumba classes also incorporate body weight classics such as lunges, squats and ab work. However, these aren't your normal moves. You might be marching it out to a Reggaeton beat when your instructor directs you to a squat series then to a 2-step.
Zumba is the type of workout that keeps you guessing, but is easy for all skill levels to follow along with. Unlike hanging on the elliptical for an hour, Zumba won't feel monotonous. As an instructor myself, I have heard from students that Zumba is genuinely fun. There is no one way to do Zumba. Different instructors, different playlists and different students will make every time you go to class a new and fun experience. The only thing that will never change is the smile plastered on your face when you leave.
Here are some tips for getting the most out of your Zumba class:
Don't be nervous. From my own experience, there is always someone new to Zumba in every class that I teach. Zumba promotes an accepting environment and with the instructor's direction you'll catch on quickly.
Keep the focus on yourself. Unless you're fueled by competition, only worry about what you're doing. You're working out for you, so don't sweat it that the girl next to you got the moves down first.
Drink plenty of water. You're going to be sweating and moving a lot. Even as an instructor, I feel wonderfully exhausted after a class. Remember to hydrate! You need to keep your body hydrated throughout class as well as after.
Don't go to Zumba on an empty stomach. Even though fasted cardio is becoming more and more of a trend nowadays, don't try it with Zumba. You're burning much more than a 6 am, 20 minutes stationary bike workout, and your body will need sustenance to keep it going.
Have fun! Leave your worries at the door. This is your time to have a blast and work on yourself!
For more about Zumba and to find a class near you, check out Zumba.com!