Yep, protein powder cookies. How could it get any better than that? You're taking two great things and making them one. Sorta like marriage or chocolate ice cream.
Seriously though, the internet, Pinterest, and blogging communities have come a long way in healthy baking. Protein treats don't have to be dry, crumbly, tasteless, or strangely textured. These wonderful bloggers have all done the work for us in coming up with protein cookie recipes that are delicious with normal ingredients. All we need to do is drag our eyes away from the screen to get it done.
Shall we begin?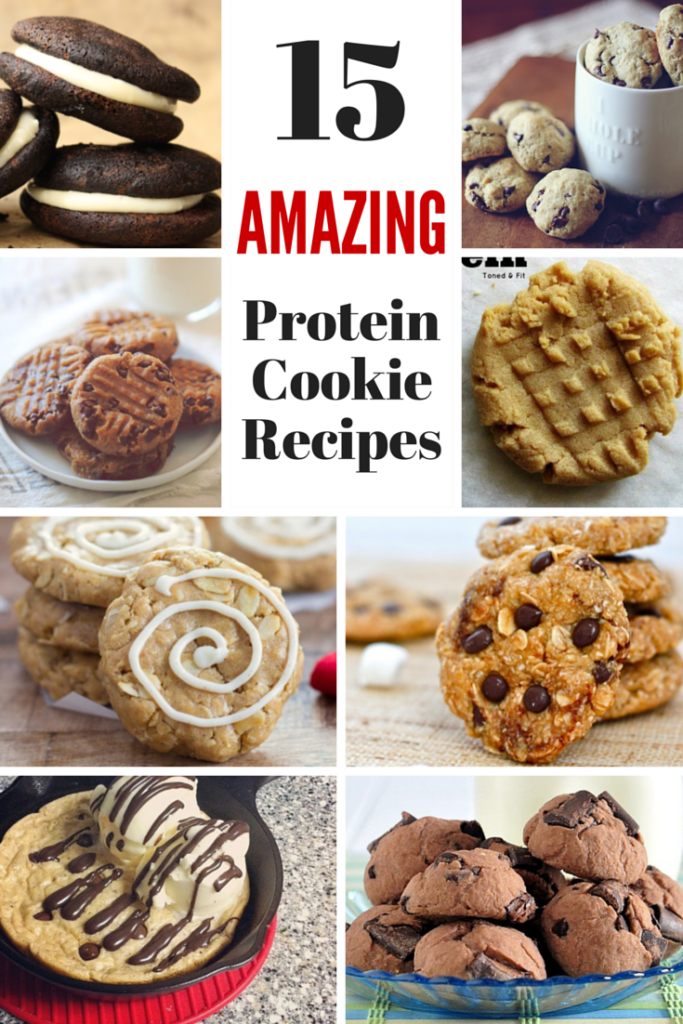 Please click through to the individual recipes. These bloggers work really hard on their recipes and I highly encourage you to make them all.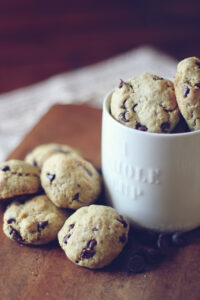 One of the prettiest photos, Dashing Dish always has wonderful creations. This recipe uses 1/4 cup of protein powder and packs 3 grams of protein in to an 82 calorie cookie!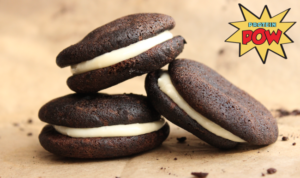 How wonderful do these look? Protein oreos are a dream come true (at least for me!). The recipe looks relatively simple for a cookie sandwich and they're less than 100 calories!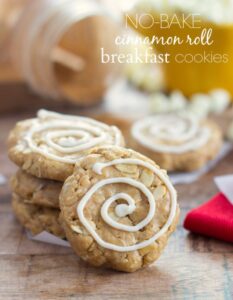 Ok, cookies for breakfast? Now we're talking. The protein is just a bonus. Seriously though, these easy no-bake cookies use oats, protein powder, honey, and rice krispies for the main ingredients. They take less than five minutes to make!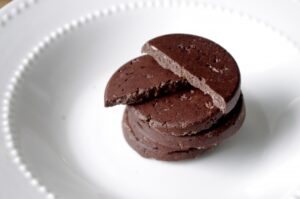 These no-bake cookies are less than 75 calories with 1 gram of sugar each. They're also only six ingredients and short on prep time. Can you wait six minutes while they chill in the freezer? It would be so worth it! Main ingredients are protein powder, cocoa, coconut oil and shredded coconut.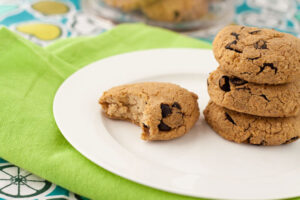 Fluffy and cakey, these cookies pack 10 grams of protein. Not only do they have protein powder, but a surprise ingredient – blended chickpeas. This gives them bulk and boosts the protein and fiber count. The only downside is that you have to clean your food processor.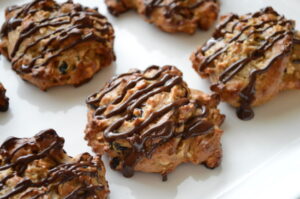 Chocolate drizzle? At first look, you wouldn't think these were protein packed and perfect for pre or post workout. These cookies are sweetened with applesauce and have four full scoops of protein powder. Other additions like flax, dried fruit and cinnamon majorly jazz up this whole wheat and cereal cookie. And the drizzle, don't forget the chocolate drizzle.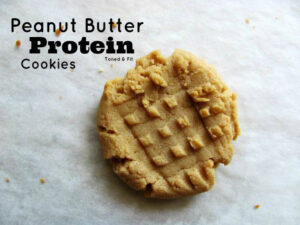 Peanut butter plus protein is almost as much of a winning combination as chocolate. These cookies use ingredients you're likely to have on hand right now – protein powder, peanut butter, eggs, cinnamon, vanilla, and coconut oil. The recipe also makes 8 cookies, so it's a low commitment for anyone who doesn't want baked goods sitting around for more than a few days.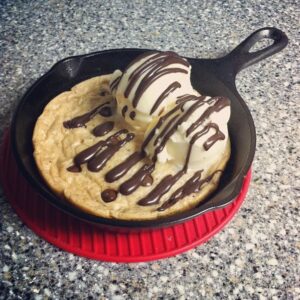 Only six ingredients for this gorgeous looking cookie! It's for sure a low calorie cookie that packs a protein punch. The only ingredient you might not have is the slow digesting casein protein powder. It's a great one to invest in, especially since it's more filling and keeps you full longer.
The best part is that you don't have to share.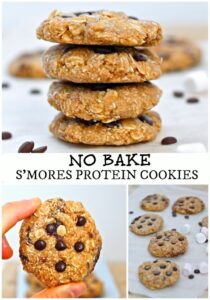 You'll have to click through to see how he does it. Smore's were something I never thought could be replicated in healthy, protein form, but here I am surprised! Oats, nut butter, graham cracker crumbs, chocolate chips, and mini marshmallows give the cookie the smore's flavor. Did I mention they were no bake?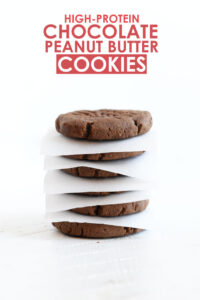 Um, yes! This is an easy recipe with only 5 ingredients. It's a spinoff of the normal protein peanut butter cookies with in her words "chocolately goodness' which I couldn't have said better myself. You probably have all these ingredients in your pantry and fridge, so it's best that you go make it ASAP.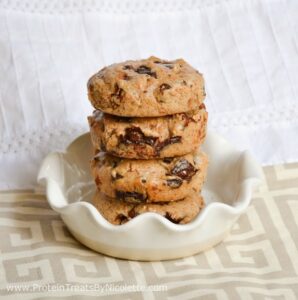 If you haven't jumped on the Quest Bar train already, it's high past time. They're amazing and the things people bake with them are amazing. These monster cookies (aptly named) use both a Quest Bar (25 grams of protein) and protein powder to pack 17 grams of protein, yes 17 grams of protein in to a 236 calorie cookie. It'd make a wonderful breakfast!
Simply Taralynn's Dark Chocolate Banana Oatmeal Cookies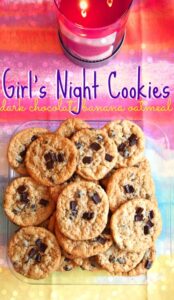 Cookies have this awesome quality that allows them to be very customizable. Dark Chocolate Banana Oatmeal is a prime example of cookie versatility and Taralynn does a great job with this simple and obviously very tasteful recipe. It's a crowd pleaser for sure!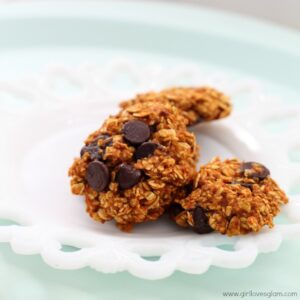 Pumpkin is one of those ingredients everyone goes crazy for. And for good reason. Not only is pumpkin delicious, but it keeps baked goods moist and adds bulk and vitamin A. This easy recipe has the perfect sweetness and spice with applesauce, cinnamon and pumpkin pie spice. You'll love this easy recipe that calls for common ingredients and one full cup of pumpkin.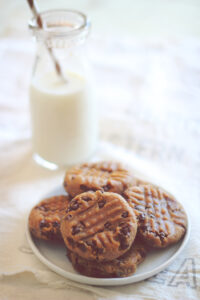 Another one from Dashing Dish? Yeah, Katie's recipes are too gorgeous (and delicious) not to include! This is another peanut butter protein cookie with chocolate chips. The recipe is slightly different and uses oats to bulk it up. The chocolate chips are optional, but we all know that they're required.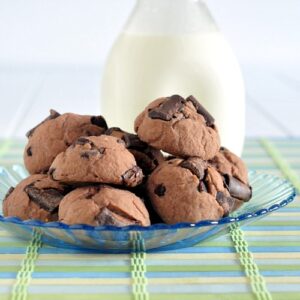 Last and certainly not least, double rich+chocolate is we need to know. These cookies use protein and chickpeas as the main bulking ingredients. You'll have to get out your food processor, but it won't take long because there's only four ingredients and one of them is water. Protein plus fiber means that these are filling and nutritious!
Still looking for protein dessert?
Here's my dark chocolate protein bites!