Working out in ratty t-shirts and old gym shorts can get tiresome. It's easy to feel self conscious when everyone else isn't walking around in clothes with holes and paint spots. But shelling out over $80 for yoga pants is no drop in the bucket.
Quality workout clothes are expensive. And why spend so much money on something that you only wear for an hour and sweat in?
Fortunately, there's a lot of places you can get cute, flattering and functional cheap workout clothes for women without cutting back on the grocery bill.
Amazon
As with just about every other category on Amazon, there are a ton of functional cheap workout clothes for women on Amazon. Given the enormity of Amazon, you'll be able to find just about any piece of workout clothing at just about every price point.
Another bonus point about ordering from Amazon is that they have more reviews than just any other retailer so you can make sure you're not only getting a good price, but great quality workout clothes.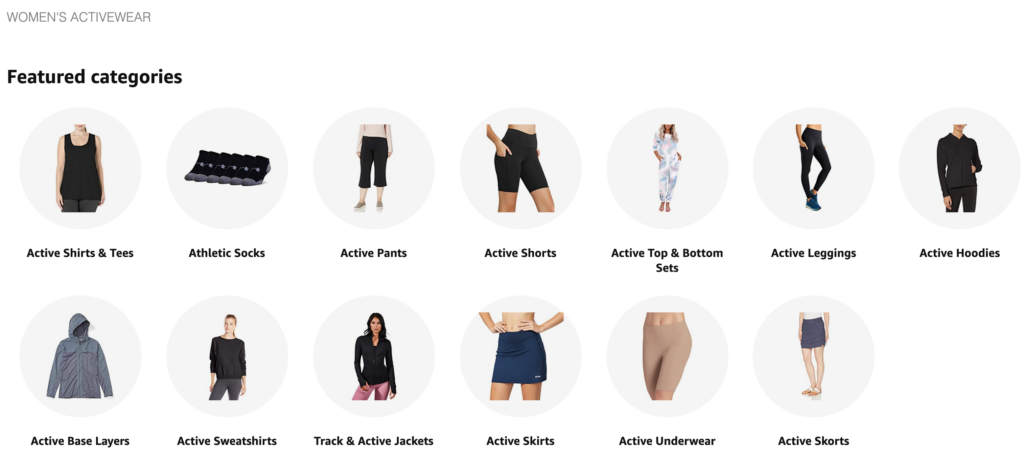 Old Navy
Every time I visit their site, there's a sale. Whether it's 20-40%, you can't beat $10 for a cheap workout top or running shorts. And they're cute! Look at those spring colors…
I have a few pieces from Old Navy, both tank tops and shorts, and they've held up well after multiple washings. Click on Old Navy Active on the sidebar on their site to see what they have.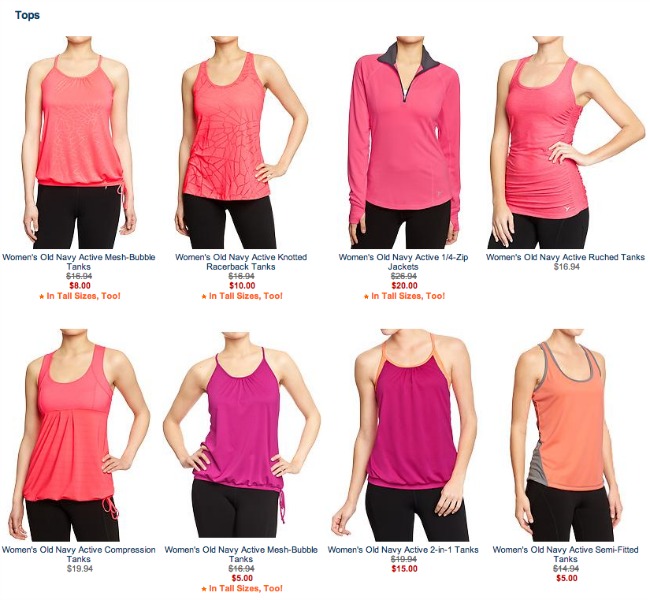 Walmart
Yes, the big 'ol Wally World. They have a lot of inexpensive workout clothes from brands like Danskin and Champion. The cool looking shirt I'm wearing above is from there. I purchased it for $3.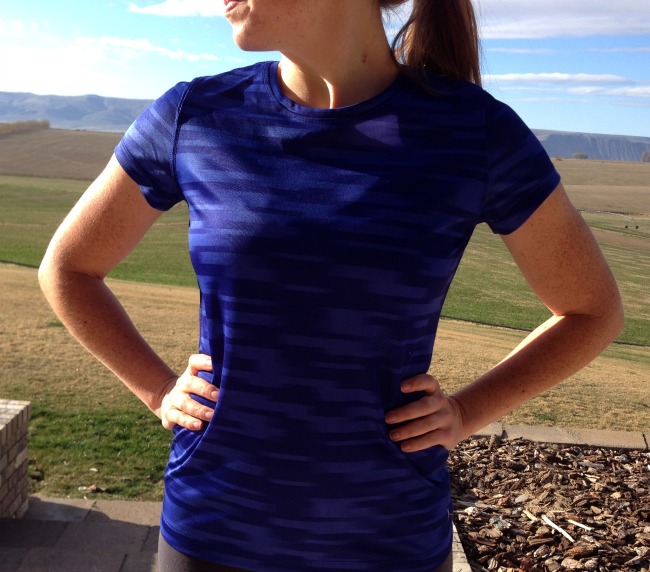 Forever 21
Yes, I know this is where the high schoolers and college kids shop. But their cheap workout clothes are unique. Those high-waisted yoga pants look flattering, not to mention you won't have to hike them up like low rise pants.
If you don't feel like competing with all the young 'uns in-store, then order online. It might cost you a few bucks in shipping, but their prices make up for it.
From my knowledge, Forever 21 doesn't have sales too often. They also never refund your money, so if you don't like something you'll have to exchange it.
I don't personally have any pieces here, though I'm wondering why… I'll order some and update this post to let you know how they hold up.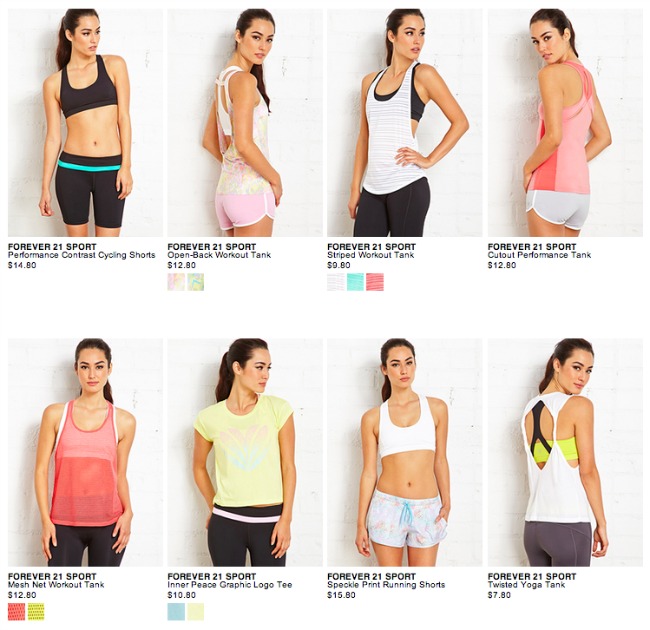 Kohl's
They carry name-brand workout clothing from Nike, Adidas, Reebok, Fila etc. You can find some great deals here and their inventory is never the same.
I love Kohl's. Once I bought Geoff some Calvin Klein summer shorts for $7.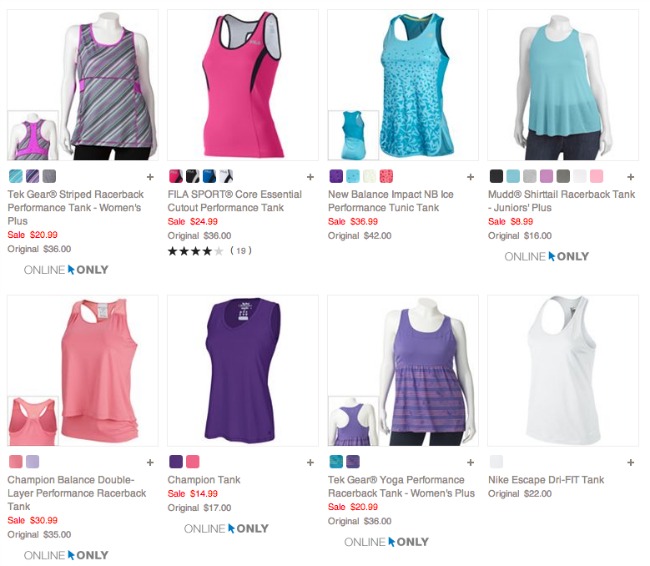 Costco
The clothing section at Costco can be hit and miss. It's also hard to try things on, but I've noticed that many locations are carrying a higher inventory of activewear. The Kirkland brand has some yoga capris and shirts that I really like. I'm wearing one of my favorite workout shirts from Costco in the picture above. I'm wearing a size small and think it was $12.99 when I purchased it.
Costco also carries clothing from different brands. As I mentioned, you don't always know what they have, so I encourage you to take a look whenever you're there.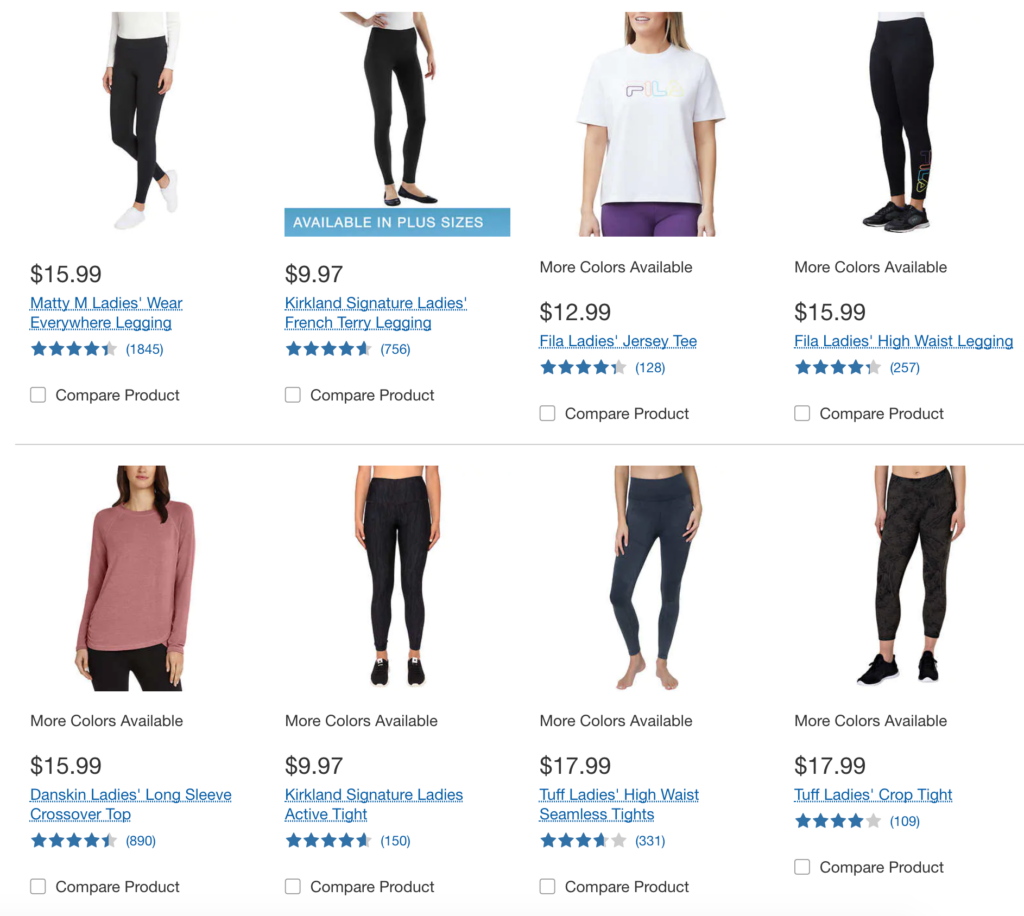 Note on cheap workout clothes
Not all inexpensive workout clothes are going to do the same things that high quality clothing does. The clothing probably won't wick well or have any sort of heat control or vents. Now, if you just workout for an hour or so at the gym, this probably won't be an issue. I wouldn't advocate for running a marathon, or even a half marathon, in super cheap clothing because of possible chafing.
It really depends on what you're doing. If you want to do more intense or endurance activities, I would invest in high quality shorts from places like Roadrunner Sports, REI or other establishments that accept returns if there's an issue with the clothing. I bought a sports bra from REI that rubbed a hole on my back when I was running and they were more than happy to take my return.
I haven't had chafing issues with low quality shirts, but you really just need to test out what works for you and your body shape.
Higher quality but still affordable:
Fabletics
This is a company started by Kate Hudson. They have a lot of super cute yoga pants, shorts and shirts. They're high quality fabrics and a little bit pricier than others on my list. It's also a subscription program so you receive new outfits each month. You can also buy outfits outright, but it's pricier than being a member.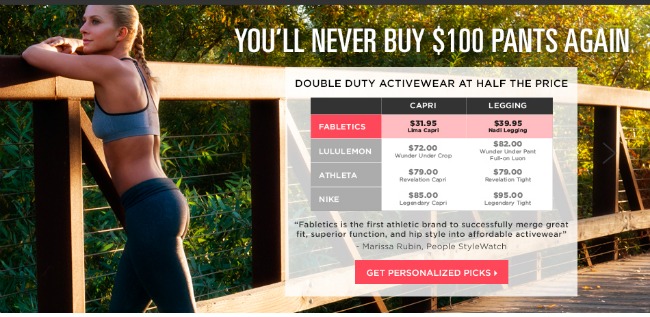 Gap
Their prices are higher than Walmart, but they still aren't Lululemon expensive. Gap's materials are softer and definitely feel high quality. Not to mention that their products look great! I love the teal pants and the long sleeve tees with the stripes on the arm. With Gap, you'll also find that their clothing comes with the neat features like key pockets or zip pockets.