I realized when putting together the Thursday newsletter that I haven't posted a recipe in a while. So I quickly whipped up these Dark Chocolate Protein Bites as a quick high protein snack. They only took 5 minutes to mix together and the best part is that there is no baking required!
They remind me a bit of a chocolate truffle. The soft center is really good and the sprinkles sweeten up the outside (and make it really pretty!).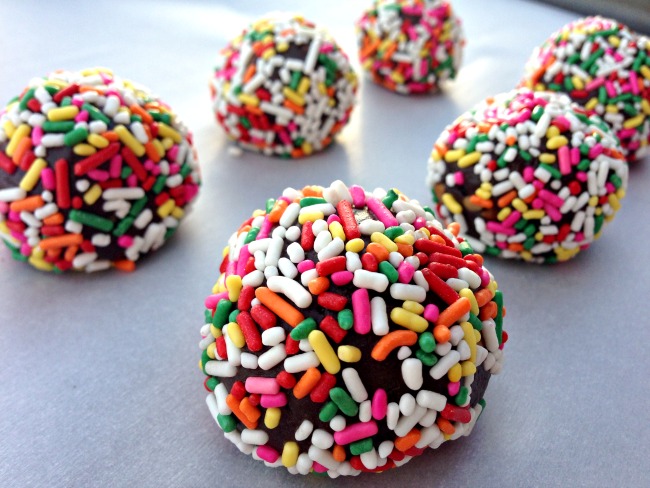 I'm always searching for a high protein snack that doesn't require meat. Not that I don't like meat, it's just usually a lot of work to prepare and if I don't have some Garlic Meatballs or shredded chicken on hand, it can be hard to get in the protein requirement for the day.
These will be great as a pre-strength workout snack!
Mixing them up takes some arm strength since it's a real crumbly mixture that eventually turns in to a thick batter. It might seem like they won't come together, but don't worry, they do!
I used Jif crunchy peanut butter since I was all out of natural, but you can use whatever you like. I liked having a little texture in them, but if you want a creamy bite, I'd go for creamy peanut butter.
Hershey's Special Dark is the only cocoa powder I use nowadays, but you can definitely use regular unsweetened cocoa powder. They won't be as rich or dark looking, but I'm sure they'll still be great.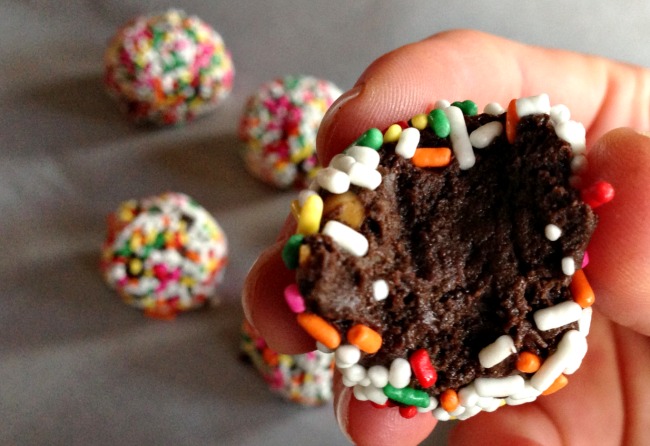 Dark Chocolate Protein Bites Recipe
Prep time: 5 mins
Total time: 5 mins 
Serves: 6
Ingredients
2 tsp cocoa powder
2 scoops chocolate protein powder
2 tbsp sugarfree maple syrup
2 tbsp peanut butter
2 tbsp water
Instructions
Mix together the cocoa powder and protein
Add the rest of the ingredients and mix well
Form in to six balls and roll in sprinkles if desired
Nutrition Information
Serving size: 1 bite 
Calories: 73 
Fat: 4 
Carbohydrates: 4 
Fiber: 1 
Protein: 9