These are by far the best high protein and healthy chocolate chip blondies that I have ever made – in fact, they are better than any healthy and high protein baked goods I have ever made.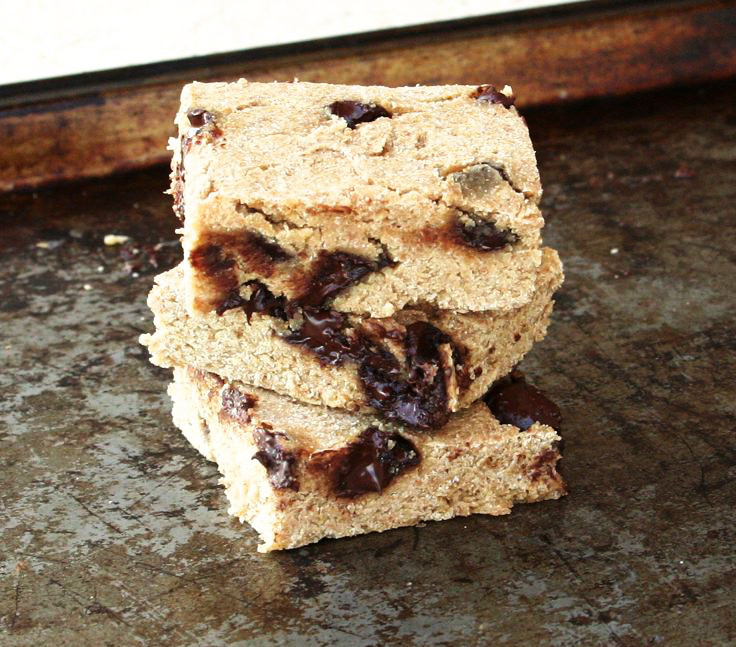 Yes, better than my brownies.
Even better than my dark chocolate protein bites.
They have a great buttery taste and are super delicious. They aren't dry and cardboard-y. They don't make you leap for a glass of water after one bite and they certainly don't taste… blah. They seriously taste bad for you… but they aren't!
The main ingredients of this Healthy Chocolate Chip Blondies Recipe are pureed chickpeas, vanilla whey, whole wheat pastry flour, coconut flour and of course, chocolate chips. The batter is pretty thick, so I hope you have strong forearms. You definitely have to spread them in to the pan.
I cut these high protein blondies in to 24 squares. That brings the calorie count to 89 calories with 4 grams of protein and 14 grams of carbs.

Healthy Chocolate Chip Blondies Recipe
Prep time: 15 mins
Cook time: 20 mins
Total time: 35 mins 
Serves: 24
Ingredients
1 ½ cup whole wheat pastry flour (wheat flour works)
½ cup coconut flour
1 scoop vanilla whey protein
1 tsp baking powder
1 tsp baking soda
½ tsp sea salt
½ cup dark chocolate chips
1 15 ounce can chickpeas
? egg whites
? cup sugar free syrup (agave works as well)
2 tsp vanilla extract
? cup water
Instructions
Preheat oven to 325
Prepare a 9×13 baking dish with PAM
Rinse and drain chickpeas, dump into a food processor
Add water, all liquid ingredients, and process until smooth
Measure out dry ingredients in a large bowl
Add processed bean mixture
Mix well, the batter is thick
Bake for 20 minutes
Notes
You may have to add a few more tablespoons of water if your dough is crumbly.
Nutrition Information
Serving size: 1/24 
Calories: 89 
Fat: 2 
Carbohydrates: 14 
Fiber: 3 
Protein: 4