Everyone knows that CrossFit has taken the workout scene by storm. Now there's even a professional league dedicated to CrossFit competitions (though it's not associated with Crossfit).
It's awesome that so many people are getting in to the CrossFit culture. Even if you don't agree with the theologies of CrossFit and Paleo, the more people seeking a healthy lifestyle the better. We need all the help we can get to stay healthy and keep our bodies strong.
Another great gift that CrossFit has contributed to the health and fitness world? Accessible workouts and a change of pace. CrossFit workouts are incredibly challenging. They build muscle while stressing your cardiorespiratory system.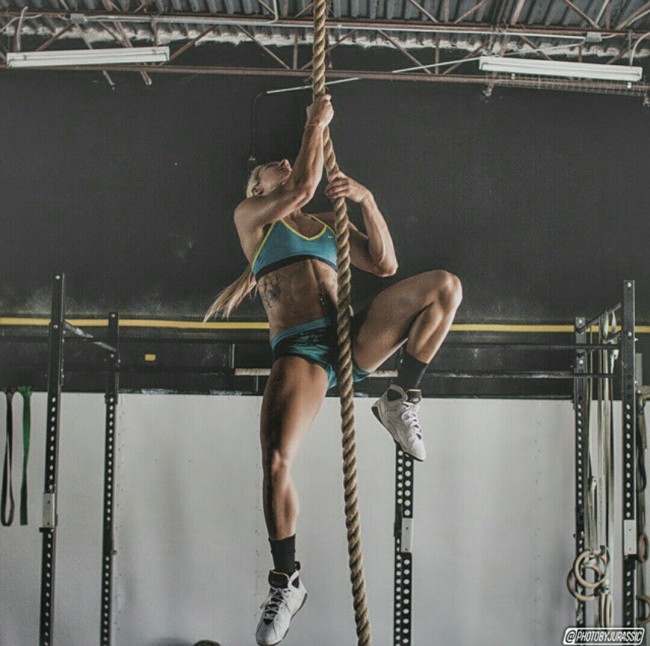 Most workouts in a box (a.k.a. CrossFit gym) will incorporate a weight element, since lifting heavy things is one of the core foundations of the sport. But if you're working out at home, it can be hard to lift heavy things if you don't have any equipment. Don't worry, Crossfit workouts at home with no equipment can still be effective.
Whether you're a CrossFit veteran or a curious exerciser, these workouts are great for the advanced and beginner alike. The intensity depends on how much you put in to it- how much you challenge yourself.
Let's go over a few of the exercises before diving in to the workouts below.
Pull-ups
If you don't have a pull-up bar, you can do a modified version of pull-ups with your kitchen table. Make sure that you have a stable table that can support your weight, hold on to the edge, and walk your legs under the table. Contract your lats to pull your chest close to the table and then lower. If you want an actual pull-up bar, amazon has a lot of great options.
It's a great exercise for those of us who have issues doing full pull-ups and you can progress the difficulty of the exercise by straightening your legs.
Handstand Pushups
If you can do a full handstand pushup, that is awesome. It's a hard exercise, but great for developing shoulder strength. A modified version can be performed by placing your feet on a chair, taking away some of the weight that you have to "push up". Just make sure that your elbows don't flare straight out, but in a 45 degree angle towards your body.
The more perpendicular your upper body gets to the floor, the harder the exercise becomes.
One Legged Squats / Pistol Squats
A full pistol is a feat of flexibility and balance. You can do a one legged squat by holding on to a chair to help stabilize yourself. Don't forget to keep proper form with your butt going back and down, knees tracking towards your 2nd and 3rd toe, but not significantly over your toes.
Like this post? Pin it so you can find it again!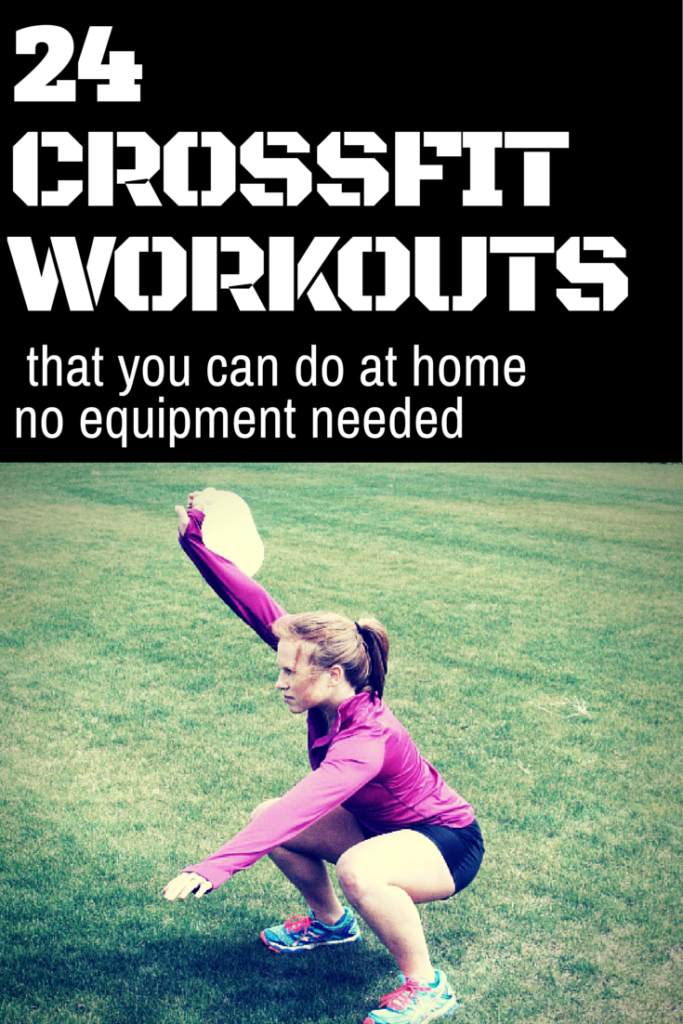 24 CrossFit Workouts at Home
Annie- Go as fast as you can for time:
50 Double-unders
50 Sit-ups
40 Double-unders
40 Sit-ups
30 Double-unders
30 Sit-ups
20 Double-unders
20 Sit-ups
10 Double-unders
10 Sit-ups
Mary- AMRAP for 20 minutes:
5 Handstand push-ups
10 One-legged squats, alternating
15 Pull-ups
Angie- Go as fast as you can for time:
100 Pull-ups
100 Push-ups
100 Sit-ups
100 Squats
Barbara- 5 rounds for time, rest for 3 minutes between rounds
20 pull-ups
30 push-ups
40 sit-ups
50 squats
Half Cindy- AMRAP for 10 minutes:
5 pull-ups
10 pushups
15 air squats
3 rounds of AMRAP for 3 minutes, two minute rest between rounds
3 rounds for time:
Run 800 meters
50 air squats
10 rounds for time:
10 pushups
10 sit-ups
10 air squats
Go as fast as possible for time:
21 air squats
21 pushups
15 air squats
15 pushups
9 air squats
9 pushups
8 rounds for time:
Go as fast as possible for time:
100 jumping jacks
75 air squats
50 pushups
25 burpees
10 rounds for time:
10 air squats
10 pushups
10 situps
10 dips
20 minute AMRAP:
20 walking lunges
20 situps
20 pushups
20 squats
4 rounds for time
Go as fast as possible for time:
400 meter run
21 squats
21 burpees
15 squats
15 burpees
9 squats
9 burpees
400 meter run
Every minute on the minute for 20 minutes, do the following:
5 push-ups
10 sit-ups
15 squats
15 minute AMRAP
5 push-ups
15 sit-ups
30 squats
Go as fast as possible for time:
50 Sit ups
25 tuck jumps
40 push ups
25 vertical jumps
30 squats
25 burpees
3 rounds for time:
Run a half mile
30 burpees
4 rounds for time:
2o burpees
20 push ups
20 sit ups
2o squats
10 rounds for time
20 minute AMRAP:
5 pushups
10 sit ups
15 squats
20 minute AMRAP:
5 handstand pushups
10 one legged squats
7 rounds for time:
7 handstand pushups
7 squats
7 pull-ups
7 burpees
7 pushups
7 sit ups
References: The Athletic Build, LAX CrossFit, The Huffington Post