Saddle up because today we're making a healthy margarita recipe! One shot… Hey! Mas tequila! Two shots… Courtesy of Sammy Hagar
Is that too early for a Monday? I imagine this post is much more appropriate on a Friday, when you're craving a drink from the busy-ness of the week. Let's just say I'm helping you get your meal planning in order.
Margaritas are awesome. They're fun and perfect for a hot day. They remind you of summer in the winter. And they're great for drinking away a bad boyfriend. Tequila always does an awesome job at making you forget things. #hotmess.
Let's not forget that.
I'm sure you all know that alcohol + weightloss doesn't even out. I've written two posts on how you can use certain strategies to consume less alcohol while you're pursuing a goal weight or aesthetic.
Read them here to refresh your memory:
5 reasons alcohol isn't your friend during weight loss
22 awesome alternatives to alcohol
Moving on.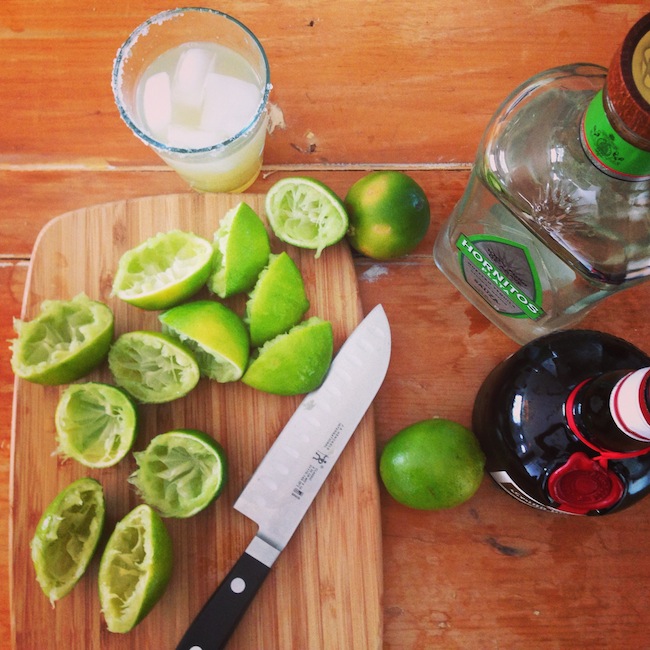 I'm providing this lime margarita recipe because they taste amazing and have so much less sugar than a mix. After having this drink (made by a close family friend) I have no desire to drink from a mix ever again. And if you know me, you know how much I love lime margaritas. That's a pretty big deal.
So maybe it's hard to classify alcohol as "healthy", but it is a skinny margarita recipe. And if you want them blended, I'm sure you can make it happen with these simple margaritas.
It's not sweet, instead it's refreshing and tart. You only need one drink and should sip it slow. There's a lot of alcohol packed in a small space and contrary to what I said above, sloppy isn't pretty.
>> Not feeling up to making your own margs? Check out this 0 calorie skinny margarita mix
While you might think that you would only taste tequila, that's not completely true. The lime juice and Grand Marnier does a great job at taming the bite of the tequila without taking away the unique taste.
If you don't have Grand Marnier, you can sub in Cointreau or Triple Sec. It's a little pricey, so if you're budget conscious, I suggest you pick up an airplane sized bottle if you're not making 'em for a crowd.
Healthy Margarita Recipe
Ingredients:
3 limes
1 shot blanco tequila
½ shot Grand Marnier
3 ice cubes
Sea salt or margarita salt (lime infused salt)
Directions:
Juice limes, set aside
Use lime rind to wet rim of glass
Dip in margarita salt
Combine tequila, Grand Marnier, lime juice and ice cubes in a short glass
Drink slowly!
It's simple, easy, and quick. Pick up a bag of limes, chips, and salsa from Costco. Then dust off that tequila bottle. Now you're ready for a party!
Healthy Margarita Recipe
Fresh margarita recipe for a hot day or when you're missing summer. Low and sugar and high in taste.