Whenever I eat at a Mexican restaurant, enchiladas always sound sooo good. I love the sauce, love love how the meat wrapped in tortilla is drenched in delicious cheesy and spicy sauce. What I don't love however, are the calories and fat and carbs that comes along with it.
High protein is where its at. Carbs and fats are important too, but traditional enchiladas seem to be lacking in the protein department. Or they only fulfill it along with too much of the other macronutrients. So I give to you, healthified enchiladas. It's a spicy red mole sauce that is really easy to make, drizzled over tortillas stuffed with chicken. It's a great dish that isn't too labor intensive or time consuming and can feed a lot of people too. I probably made this dish in 10 minutes or less and we ate the leftovers for a few days afterwards.
I love to use rotisserie chicken for the stuffing. It's only $5 for a huge one at Costco and I don't have to plan too far ahead if I want to make this dish. You can also put a 5-6 chicken breasts in the crockpot before you leave for work. Cover them with broth and cook on low for 6-8 hours, drain and then shred with a fork. Cost-wise, I'm sure this saves a few pennies especially if you buy in bulk. I usually try to get one serving of protein in one enchilada, which to me is about 20-25 grams.
After making the sauce and assembling the enchiladas, you can also refrigerate it to throw in the oven later.
I use a minimal amount of cheese, just enough to get some of the flavor and satisfy my husband while staying low calorie. You can also stuff in some cooked veggies or spinach, if you prefer. Geoff doesn't like green things, so I either serve it on the side or add it to half of the batch.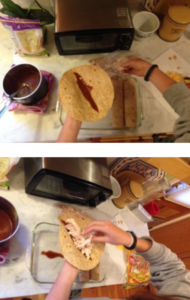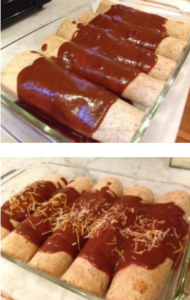 Healthy Mole Enchiladas Recipe
Prep time: 20 mins
Cook time: 20 mins
Total time: 40 mins 
Serves: 6
Ingredients
2 tbsp vegetable oil
2 tbsp flour
2 tbsp chili powder
2 cups water
½ 6 oz can tomato paste
½ tsp cumin
¾ tsp garlic powder
½ tsp cayenne pepper
4 tsp baking cocoa powder
1 tsp salt
1 rotisserie chicken (or 5-6 shredded chicken breasts)
6 low carb tortillas ( I use Smart & Delicious large tortillas or Tumaros multi-grain)
mexican shredded cheese
Instructions
Debone rotisserie chicken or shred cooked chicken breasts
Preheat oven to 350
Combine vegetable oil, flour and chili powder in a saucepan over medium, once it starts to bubble, whisk for 1-2 minutes
Slowly add water, then mix in the tomato paste, cumin, garlic powder, cayenne, cocoa and salt
Whisk until smooth, then let the mixture come to a simmer
Once the sauce simmers, it will start to thicken. Turn off the heat and set aside
Spray a 9×13 and ensure all ingredients are close by to assemble enchiladas
Pour a small line of sauce down the middle of the 9×13 pan
Stuff enchiladas with sauce, chicken and cheese. Roll up and place seam side down on pan
Once complete, pour the remaining sauce over assembled enchiladas and sprinkle with cheese
Bake for 20 minutes or until insides are warmed
Nutrition Information
Serving size: 1 enchilada 
Calories: 300 
Fat: 16 
Carbohydrates: 24 
Fiber: 14 
Protein: 33